Ejecutamos swipl, uno de los compiladores de Prolog libres:
bash $ swipl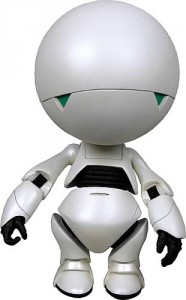 Y si le interrogamos por el valor de una variable de la cual no puede inferir ningún valor...
```prolog % library(swi_hooks) compiled into pce_swi_hooks 0.00 sec, 2,060 bytes Welcome to SWI-Prolog (Multi-threaded, 32 bits, Version 5.8.2) Copyright (c) 1990-2009 University of Amsterdam. SWI-Prolog comes with ABSOLUTELY NO WARRANTY. This is free software, and you are welcome to redistribute it under certain conditions. Please visit http://www.swi-prolog.org for details.
For help, use ?- help(Topic). or ?- apropos(Word).
?- K. % ... 1,000,000 ............ 10,000,000 years later % % >> 42 << (last release gives the question) ```
---